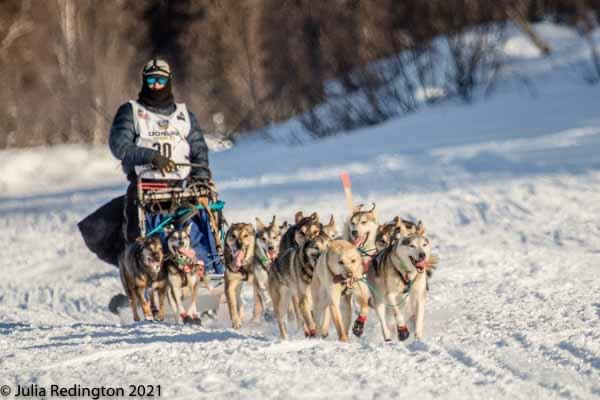 It is crazy to think that this mushing season is already over. It seems like yesterday we were just doing three mile runs to the lake and back, and now we just got back from a 440 mile race. I think back a year ago and how far the kennel has come. A year ago when I got the dogs, I didn't even have a house, or a dog yard yet. I was so fortunate that Tim and Monica allowed me to use their vacant dog lot in Kasilof to keep the dogs until I closed on my house. When I closed on the house it was time to move the dogs. I remember bringing them over to the house was quite the chore. I didn't have a sky kennel or anything to use, so I put a bunch of blankets in the back seat of my truck, and hauled them over four at a time to the house. We struggled for days trying to pound the dog poles into the still frozen ground so that the dogs could move to their full-time home. We finally got all the poles in the ground, houses moved, and had ourselves a dog yard.
As many of you have seen from my video's I like to free run my dogs. Once I got the dogs settled, I started letting them free run, and to be honest I was a complete nervous wreck having them run around the property. That's when I decided that I wanted to fence the entire dog yard. Throughout the summer we slowly put up fences, gates, and puppy pens. I can say with all honesty that I think I have one of the best looking dog yards, and I am really proud of that.
In August, I finally got a 4 wheeler and I started training. I pretty much had zero ideas of the local trail system, but Jobie can attest that I spent HOURS and HOURS looking over google maps searching out for trails. Somehow every time I needed to step up the dog's mileage, I was able to find trails to accommodate the mileage. Once the end of October rolled around, I had run out of trail options for longer distance and started trucking the dogs 10 minutes across the highway so I could train on the beach. The majority of the trails around the house are winter only trails because they cross swamps and creeks that would just cause a 4-wheeler to get stuck. One day (while studying a map), I finally found the trail I was looking for, and was able to start doing 30+ mile runs straight from the house. It took all winter to piece this trail system together, but now I can do a 100+ mile run on the 4 wheeler from the house.
The beginning of December I came home from work to recent freezing rain. It was so bad that I was falling while spreading sand in the dog yard just so that we could safely feed the dogs. I will honestly say it was a low point in the season. That night though I got a call that they were on sleds up in the caribou hills. The next day I loaded up the dogs and snow machine, and sure enough they had snow. We did a short run with the snow machine and headed home. I came back the next day and did back to back runs on the sled. After that run it started dumping snow in Kasilof and Clam Gulch and we were finally running on sleds.
One downfall to my kennel is that I cannot safely leave on a sled. We will be remedying this problem this summer by making new trail, but this past winter we would hook the team up to a snow machine, towing the dogsled, and run them a mile and a half down the road to the Centennial trail head. There we would delicately switch to the dogsled, and I would take off to the Caribou Hills, while Dain took the snow machine back to the house. Heading home, I would just run the team down the road with the sled. They were a little more tired and easier to safely control.
The end of January we ran the Tustemena 200 and took 14th. I didn't race the team super hard and took extra rest. I had a lot of issues leaving the last checkpoint of the race and getting the team going. The checkpoint was only a half a mile from the house and the dogs knew they were close to home. I ended up with my two-year-old leader Suka in single lead and she helped us finish the race.
After this race I was not feeling to good about my current leader situation. Unable to run the Willow 300, I figured I would continue to run dogs for fun and call it a season. Towards the end of February the attitude of my leaders and ultimately my team started to change. We were flying up and down the trails and my leaders were making leaps and bounds. I started thinking, man I need to race this team. I had planned to race the Kobuk 440 all winter until after the T-200. I ultimately had doubt in myself and in my leaders that we would be able to complete a 440 mile race. My dogs started to show me though that they wanted, and needed to race. That is when I made the decision to go race.
Somehow by a miracle of God, and a lot of amazing people, I was able to pull this massive undertaking off. Before the race I got in some good training runs between the Denali highway and home. I borrowed sky kennels from the T-200 race association and Dean Osmar. Jane Adkins gave me meat snacks for my dogs, and tons of equipment( on top of everything else she gave me). I got off work a day early and came home to pack all the gear and drop bags that I would ultimately need.
I drove up to anchorage the afternoon of March 29th and the temperature was over 50 degrees. The dogs were getting warm in the trailer so I ended up pulling all of the straw out of their boxes and just throwing it on the floor. I had also moved one of my chest freezers into the trailer to help keep the meat in my drop bags frozen until we got to Kotzebue. I ended up having to stop several times on the way to Anchorage to drop the dogs so they could cool off, and not overheat. After a quick stop in Girdwood, I ran up to Wasilla to grab some meat that I had bought from Under Dog Feeds. A huge thanks to Meredith Mapes for picking this up for me. I then ran back to Anchorage and checked in with Alaska Air Cargo. At 2 am I went and checked my bags and then ran back to Alaska Air Cargo to get the dogs loaded into their crates and loaded onto the airline shipping flat. After they got loaded, I ran to park my truck, (thanks John Tovssen), and Uber'd back to the Airport just in time to catch my flight. Phew.
I boarded my flight to Kotzebue and was asleep before we even left the ground. I ended up sleeping the entire time. I landed in Kotzebue to be met by my amazing host Paul Hansen. Back in the day Ken use to stay with Paul and Margaret when he would go to Kotzebue to race. In 2017 when I went to Nome with Ken, Paul ran his Rookie Iditarod and that is where we met, and he invited me to Kotzebue.
We went back to the house and waited for the dogs arrival. Everyone in Kotzebue made it so easy to get my dogs. They delivered the dogs and all my gear to the houses front door step via a loader! We got the dogs all fed and everyone laid down for a nap. The next few days were spent doing some short 25-mile training runs and getting the dogs re-acclimated to the snow and cold temps. I also spent lots of time relaxing and napping. Working the schedule I do, and training dogs the rest of the time I honestly do not sleep that much. It was so nice to catch up on some sleep and not have to worry about anything but the dogs and my upcoming race.
THE RACE
The Kobuk 440 is one of the few distance races that has a mass start. It is the perfect place to have a mass start because the sea ice goes on forever. At the beginning when the hat drops it is mass chaos. I told myself that I was going to hold back a bit when the hat dropped, but in my typical competitive fashion, I couldn't resist to take off as soon as I saw the hat drop.
Kotzebue to Noorvik: 55 miles
Aside from the first 12 miles out of Kotzebue, this run is extremely flat. After crossing the portage, you drop down onto Kobuk lake. Kobuk lake is where the Kobuk river dumps into and it seems like it will never end. Eventually you make it across and start heading up the Kobuk River delta. After a few minor portages you end up in Noorvik. This run was Extremely fast and I was riding the brake the entire time. Just outside of Noorvik I had a very close encounter with a snowmachiner that almost collided with the front of the team. As we pulled into town all the locals were out on their decks and on the streets cheering us on. I would find this to be true for every single village I pulled into, no matter what the time. I had planned to rest in Noorvik for an hour and a half and even brought a few flakes of straw with me to do so. I got the team parked and threw some straw out for them and started making their meal for them. After I fed them, I could see that they were not resting well, so I threw some booties on them and off we went.
Noorvik to Kiana: 22 Miles
This was a pretty uneventful run. The entire run was on the river. I will say this is the one run that I did crash on though. There was a pretty steep side hill and as I slid down one of my runners caught in a rut and I tipped over. I was pretty embarrassed, and a little beat up from landing on some glare ice, but we kept on running. We pulled into Kiana and I finally got the team to go to sleep. In Kiana I had some of the best ribs I have ever had in my life. They were delicious! I tried to catch some sleep, but was to excited about the race ahead. In Kiana I ended up having to drop Brownie for a tight shoulder. Brownie is such a hard driver that she tends to over extend herself early on. She is a very young dog, and I am hoping she will calm down as she gets a little older.
Kiana to Ambler: 84 Miles
This is the longest run of the entire race. I left Kiana with a screaming excited team. Leaving Kiana we went down what seemed like a cliff with a sharp 90 degree turn at the bottom. It definitely got the adrenaline going right off the get go. I decided before the race that I was going to break this run into two runs with a short break at the shelter cabin, which was approximately half way to Ambler. The run to Ambler was all on the river, except for a 12-mile portage. This was the night with the amazing Northern Lights. It made the run that much more enjoyable. The cabin ended up being at 42 miles. The team was moving so good that I almost considered running straight through to Ambler, but I ended up stopping, and I am very glad I did. I got some straw out for them, fed them a quick meal and took their booties off. For some reason I got really cold on this run. I ended up going into the shelter cabin and wrapping up in my sleeping bag for half an hour to warm up. After the break I went back out, got the dogs bootied and took off. Immediately leaving the cabin we started a gradual climb over a 12-mile portage before dropping back onto the river. This run was timed perfectly with the sunrise over the mountains and made for a beautiful morning. We made really good time to Ambler and got there before the heat of the day. I ended up getting a good meal and nap in Ambler.
Ambler to Shugnak to Kobuk to Shugnak to Ambler: 70 miles
This was probably my favorite run of the entire race. The communities of Shugnak and Kobuk were absolutely amazing, and the views were incredible. I ended up dropping Jimmy for a sore shoulder in Ambler. As I was departing the checkpoint, I noticed that Junior was sore also, so I dropped him as well (Thanks Brenda Mackey). We made really good time to Kobuk where I stopped for twenty minutes to water and feed the dogs. As I was leaving the Kobuk checkpoint I noticed that Douglas had a sore shoulder and loaded him up in the sled. He ended up barking the entire run from the sled and gave the team some good motivation back to Ambler. I caught another good nap and prepared for the long run to Selawik.
Ambler to Selawik: 76 miles
I left Ambler as the sun was starting to come up. The team looked really good. I knew I was going to have to stop at some point during this run because we were running into the heat of the day. I decided to run past the shelter cabin which was at about 40 miles, to try and get a few more miles in before things got really warm. This run was interesting because we had a nice tail wind the entire way, but it was matched almost perfectly with the speed of the team, so it was like running in dead air. During this run we were also running into the sun, which caused my face and lips to get extremely sun burnt. This run was also completely open, with zero trees. After I passed the shelter cabin, I kept thinking to myself, there should be a few trees up here to stop and rest next too. Unfortunately, that was not the case and it was bare tundra all the way until the checkpoint. We ended up stopping 18 miles outside of Selawik for a quick two-hour break. The tailwind that we had helped cool the dogs off, and soon we were up and running. I decided to stay in Selawik for 6 hours, planning to rest up for one final push into Kotzebue.
Selawik to Noorvik to Kotzebue: 90 Miles
The 30 some miles to Noorvik were un-eventful. The trail was very hard, with mostly tundra (no snow) on the edges. On the edge of town, we had to run across some tussocks and my main leader Suka ended up just barely tweaking her shoulder. I decided to drop her and Top and push on. At this point, this is where I made a mistake. When I dropped Suka I should've stopped in Noorvik and rested the team. I had a drop bag there with food for the team, and they had hot water for the dogs, and food for mushers. However, in my rookie, sleep deprived state, I decided to blow through the checkpoint. Right away without Suka you could see that our speed dropped off. I started running the math in my head and knew that I was going to have to stop somewhere on the river and camp. About 20 miles from Noorvik (35 miles from the finish), I noticed that Jakes shoulder was getting sore, and I was going to have to load him. I decided that this is where I was going to camp. Luckily, I had thrown a few flakes of straw in my sled in case this happened. Since I only had my cooker pot (not my full cooker), and hadn't grabbed any water at the checkpoint, I started a fire so I could melt some snow for the dogs and make them a meal. I got the dogs fed, and laid down in my sled for a quick nap. After about two hours I bootied everyone and we took off for the finish. With my biggest dog in the bag, we were still averaging 8+ mph. When we got halfway across Kobuk lake(15 miles from the finish), I noticed that Hydra needed a little break. I decided to throw her in the sled and keep going. Kobuk lake is a 12-mile crossing with zero cover that seems like it will never end. There was a shelter cabin on the other side, and I knew that if we needed to take another break, I wanted to be at the shelter cabin, and not out on the lake. We made it across the lake, and I fed all of the dogs and they looked ecstatic and ready to finish strong. We took off from the shelter cabin and made great time going to the finish in Kotzebue.
When I saw Kotzebue a huge sense of relief came over me as in "we made it!", but then I was filled with sadness because I knew that this would be my last time on a sled until next winter. We cruised to the finish line in 9th place, the dogs that finished happy as can be. I was very happy to get home to my host families house and see all of my dropped dogs (minus Suka and Top, I got them back later that night), happy, healthy, and ready to go for another run.
Overall, the Kobuk 440 was such an amazing race. The people in all the villages were absolutely wonderful, and so welcoming. The scenery was incredible, and the race committee goes above and beyond to make sure that each musher has a great time and is well taken care of. A huge thank you to Hannah Atkinson and the rest of the board for putting on such an amazing race and taking such good care of our dropped dogs.
I would call this season a huge success. I completed two qualifiers and got to develop some really incredible young dogs. I learned a ton about racing, my dogs, and myself. I am already looking forward too and planning for next season. Although I didn't qualify for the Iditarod, I got a ton of really good experience, and got a few steps closer to achieving my dream.
It would be impossible to run a kennel, let alone start one from scratch without the help of a lot of friends. It truly takes a community to make this happen. I am going to attempt to thank everyone, and I sincerely apologize if I forgot somebody.
Will Bogart: Helped weld the dog tie outs for the dog yard
Marty and Tammy Guth: Marty helped me weld dog tie outs for the dog yard, and let me use their shop to build all of my dog houses.
Jesse Hancuff: Creating an amazing website for me.
Jane Adkins: This season would have not been as great without the help of Jane. She not only did all of the dew claws on my puppies, as well as the entire yards vaccinations. But she also let me use an enormous amount of gear, gave me snacks for the race, and was always there for questions about anything. I am so grateful to have met Jane, and am able to call her my friend!
Jason Young: Gave me lots of great racing advice and was always willing to watch the dogs while I was gone on training trips, also ran the race dogs a few times.
Tustemena 200/Tami Murray- Allowed me to borrow 9 sky kennels to fly all of my dogs to Kotzebue.
Dean Osmar: Offered great race advice and let me borrow 2 sky kennels for the race.
Tim Osmar and Monica Zappa: They offered great advice throughout the season, showed me around the trails in the Caribou Hills early in the season, and let me keep my dogs at their dog lot in Coho before I closed on my house last April.
Steve and Cindy Josephson: Let me park and run a team from their house, and helped me find extra freezer space when things warmed up to 40 degrees in January.
Jobie: My girlfriend Jobie was so amazing this season. She was always so supportive of me through this entire season, and was always willing to help out wherever. I would go on crazy late-night training runs and she would always be there when I got back with whatever I needed. Thank you for being so supportive of me in all that I do.
My dogs: My dogs are incredible, and so patient. I feel like we have grown and developed as a team this year, and I am very excited to see what this team can do in the up and coming years.
And of course, all my sponsors. My sponsors this year have been incredible, and I hope that we can continue to improve our sponsorship program for many years to come.
Victor Thompson and Sebrina Hensely

Sylvia and Marv Hall

Lion Eye Creative - Jesse Hancuff

Betty and Jan Paxton

Maria Campbell

Melissa Daughtery of 5 Star Realty

Joan Huston-LaRoy

McKinley Creekside Cabins - Tracey Smith & Holly Slinkard

Christina Henry

Northern Oil Solutions - James Craycraft
Thank you everyone for your support and following me this season, I am looking forward to another great season next winter. If you are interested in sponsoring the team for next year, feel free to send me a personal message. Thank you everyone!
Sincerely,
Josh and Dogs